---

Phishing and Scam Email Warning
It has come to our attention that a number of our clients have received Phishing Emails (Scam Emails) regarding Hosting, Domains, Mailboxes, etc.
These scammers are taking advantage of a normal notification process to trick people into clicking links and providing sensitive information which the scammers will attempt to use.
Examples of Recent Scam/Phishing Emails
It's very difficult to predict or give clear examples of what these emails will look like in every case and in the future but here are two examples of recent emails sent to us by concerned clients.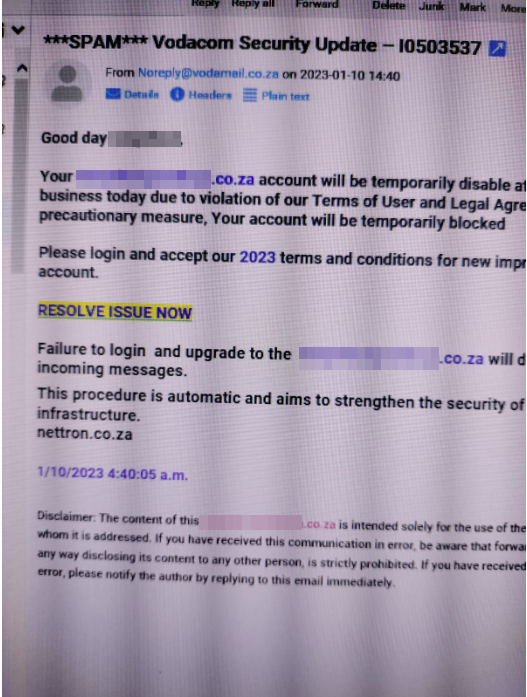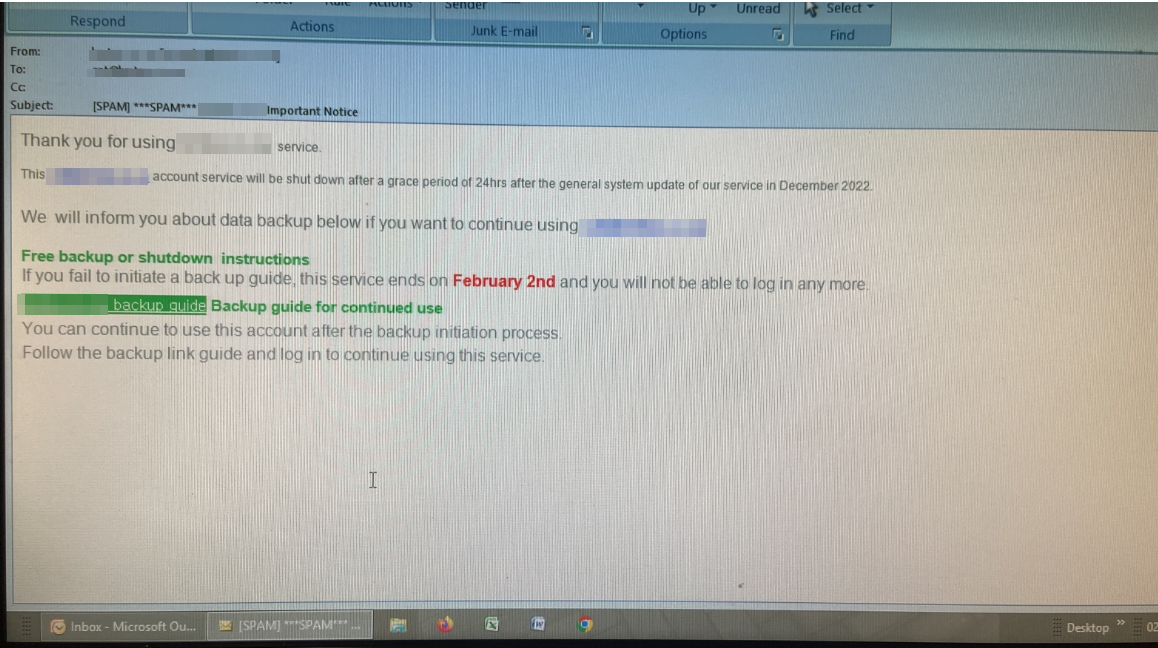 What to look out for
When receiving any email, it's always good practice to have a quick look at a few things to see if there is anything strange.
1. Check the Subject for SPAM Tags such as ***SPAM***
Our servers scan thousands of incoming and outgoing emails every day and takes action based on the user's mail settings.
Despite these checks a number of cleverly crafted spam/scam/phishing messages still get through and this is where the end users need to always check and evaluate before just clicking on links.
2. Check the Sender Name
If you don't know the sender, take extra care and review the email further.

Emails from iStartCloud will always be one of the following :
– istartcloud.com for all general and billing information
– istartcloud.net or servername.istartcloud.net for server related notices
– istartcore.com for specific anti-spam filtering messages.
3. Check the Sender Email Address
Review the sender email address to see if it is from a domain you know or that is generally known. Even so, be careful because scammers are able to forge sending domains and email addresses.
4. Addressed to Generic Recipient
If the email addresses you as "Dear Customer" or by an incorrect Name, be careful and investigate further.
5. Grammatical Errors
Many of these Scam/Phishing Emails have grammatical or spelling errors when you read them carefully. This is not to say all Scam or Phishing emails have such errors, there are many perfectly worded and constructed Scam & Phishing emails out there.
6. Creating Urgency or Re-assurance
They either try to create a sense or urgency or to reassure the recipient by encouraging them to confirm their details by clicking a link provided.
7. Hover your mouse over links before clicking
Most email programs allow you to Hover your mouse cursor over a link in the email body and it will display the actual domain or URL, use this method to check that the actual URL is something you know and trust before clicking on the link.
8. Be careful when opening attachments
Not so relevant for Phishing Scams, but to prevent other Scams such as Malware and Ransomware be careful not to open or click on just any attachment unless it's from a trusted source.
How to minimise your risks of getting caught by a Phishing Scam?
There are a few things you can do to minimise your risks of getting caught with a Phishing Scam.
1. Always be careful and think before clicking
Use the points above to review any email before you simply click on links or open attachments.
2. Use your own links to websites
Don't simply click links in suspicious emails, rather use a link you typed directly or a trusted bookmark you saved.

Links to iStartCloud will always be one of the following:
– istartcloud.com or www.istartcloud.com for the general website
– my.istartcloud.com for the Client Portal, Billing & Support
– "servername".istartcloud.net if you have direct access to a specific server
– istartcore.com if you have access to specific anti-spam filtering services.
3. Install or activate web tools
There are many tools for this, every web browser has a tool you can enable or turn on to alert you if the website you are trying to visit is safe or malicious.
4. Important iStartCloud Notices will also be in your Client Portal
To double check if an email was sent by iStartCloud check to see if it's also in your Client portal at https://my.istartcloud.com
All important Account, Domain, Hosting, Billing or Suspension notices from iStartCloud will always be in your Client Portal under the History menu link on the Left Hand Side. The only exceptions will be Notices such as "Resource Usage" sent directly by the relevant Hosting Servers but there you need to check the server email address to see that it's from istartcloud.com or istartcloud.net
5. Still unsure? Contact us.
If you're still unsure about an email regarding your Account, Billing, Domain, etc. feel free to contact us by Phone, WhatsApp, Telegram, Email or Support Ticket immediately.
That's it for now, please be careful and rather ask if unsure, before you click any email links.
Recent Posts